President Trump may have taken to Twitter this Monday to defend his favorite mouthpiece, Sarah Huckabee Sanders, who was tossed from a restaurant last week because of her tendency to pardon the President's worst behavior even when faced with the cold-hard facts.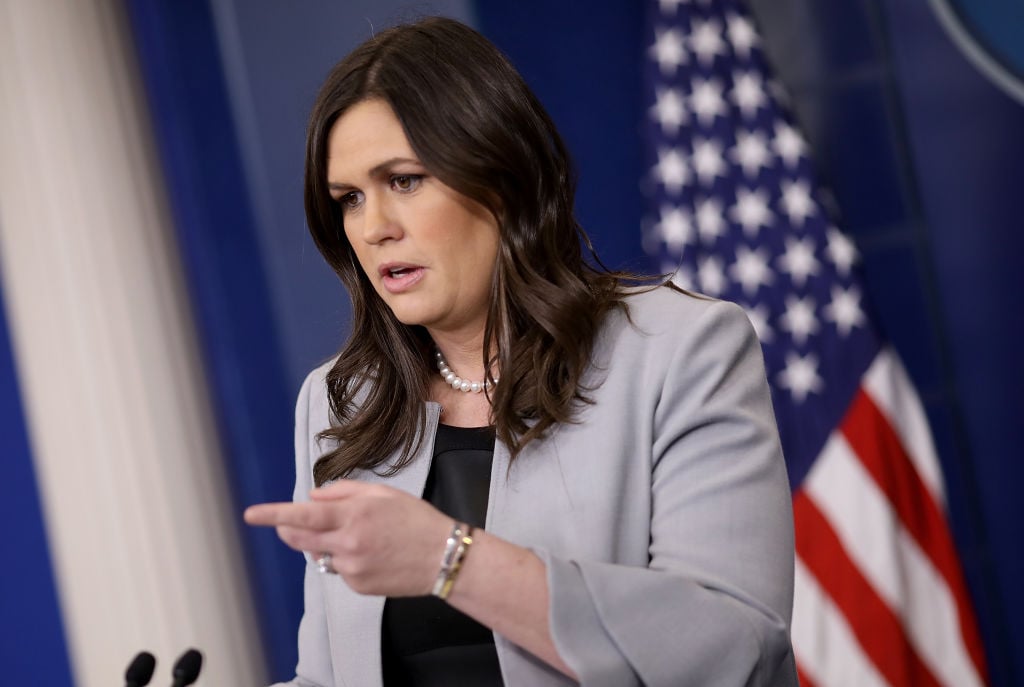 However, the New York Times revealed in a new report that the behind the scenes story of the White House proves that the President feels a little differently about Sanders
The piece by Maggie Haberman details Trump's private insults towards Sanders, specifically her complacent reaction to Michelle Wolf's roasts at the White House Press Correspondent's dinner, claiming that she was "weak" for not storming out.
Since then, the Times reports, the president has informed her that he will be "grading" her public appearances and has been asking other officials what they think of her, looking for any reason to replace her with a fresh-faced liar.
Trump must've been displeased with her reaction to this weekend's incident, which saw Sanders post a mild tweet in response to being denied service by the owners of the Red Hen in Virginia.
If Sanders were truly a pupil of Trump, she would've milked the moment for every political angle it was worth, instead, we got this:
"Last night I was told by the owner of Red Hen in Lexington, VA to leave because I work for @POTUS and I politely left. Her actions say far more about her than about me. I always do my best to treat people, including those I disagree with, respectfully and will continue to do so."
Last night I was told by the owner of Red Hen in Lexington, VA to leave because I work for @POTUS and I politely left. Her actions say far more about her than about me. I always do my best to treat people, including those I disagree with, respectfully and will continue to do so

— Sarah Sanders (@PressSec) June 23, 2018
Unsatisfied with her lacking comeback, Trump himself quickly joined the fight:
"The Red Hen Restaurant should focus more on cleaning its filthy canopies, doors, and windows (badly needs a paint job) rather than refusing to serve a fine person like Sarah Huckabee Sanders. I always had a rule, if a restaurant is dirty on the outside, it is dirty on the inside!"
The Red Hen Restaurant should focus more on cleaning its filthy canopies, doors and windows (badly needs a paint job) rather than refusing to serve a fine person like Sarah Huckabee Sanders. I always had a rule, if a restaurant is dirty on the outside, it is dirty on the inside!

— Donald J. Trump (@realDonaldTrump) June 25, 2018
Twitter users were quick to fire back at Trump and Sarah Sanders, showing full support for the owner of the Red Hen. Here's what some of them had to say:
Sarah sanders clearly has zero class going to a so called "filthy restaurant" (insert sarcasm) this is the most ridiculous tweet by a sitting president I have ever witnessed! Maybe she should go to Mar a lago where you've had over 70+ health violations in the past 3 years! Lol

— Rita a (@ritaa83) June 26, 2018
New: health inspection reports show the Red Hen passed with flying colors this year. By contrast, Trump's properties have been dinged for hundreds of health code violations https://t.co/9zNM9dP7Du…

— Nicole Ferrill (@NFerrill) June 26, 2018
Disgusting. That place received 10 health code violations when it was inspected in April 2018, and was assessed as a "moderate risk" to public health. Wait, that was a Trump Hotel

— Lenny (@HumanHorrorFilm) June 26, 2018
Huh, one might think you had more important things to do than tweet this nonsense, no?

— Beth Gilmore (@Betharoooni) June 25, 2018
COMMENT BELOW
LET US KNOW WHAT YOU THINK
We want to hear your thoughts about this folks! Please leave a comment below: