The Trump administration has this amazing ability to keep Americans on the edge of their seats, bracing for impact for whatever impending disaster strikes next. However, no one could've prepared for the pure stupidity that was laid down by Melania Trump this week, and I mean no one.
Stephen Colbert ripped into first lady Melania Trump on Thursday for her botched trip to an immigrant children's center after the former supermodel wore a jacket that many deemed to be just a tad insensitive…
The late-night comedian informed his audience that he and his co-workers couldn't believe the photo of the first lady wearing a jacket with the writing "I REALLY DON'T CARE, DO U?" on it.
Wow, she's really starting to seem like the kind of person who would marry Donald Trump. pic.twitter.com/LI6ZIjMEaT

— Stephen Colbert (@StephenAtHome) June 22, 2018
"We checked this so many times because we thought, 'This has to be fake,'" Colbert said, expressing his astonishment when he found out the first lady really did wear the jacket.
Colbert pondered how the first lady's team had landed on that particular piece of outerwear.
"What was her first choice? A jacket that says, 'Womp Womp?'" he quipped, in a reference to former Trump campaign chairman Corey Lewandowski's recent response to a story about a girl with Down syndrome being separated from her mother at the U.S.-Mexico border.
TONIGHT! Melania visits the kids at the border and fashions a highly unfashionable statement. #LSSC pic.twitter.com/xZAYuoIYUJ

— The Late Show (@colbertlateshow) June 22, 2018
Of course, Colbert wasn't the only one to weigh in on the ridiculousness of Trump's outfit:
"The last ounce of pull Melania Trump had to appear like the voice of reason or compassion just left the building," one Twitter user wrote. Vice called the jacket "absurdly insensitive."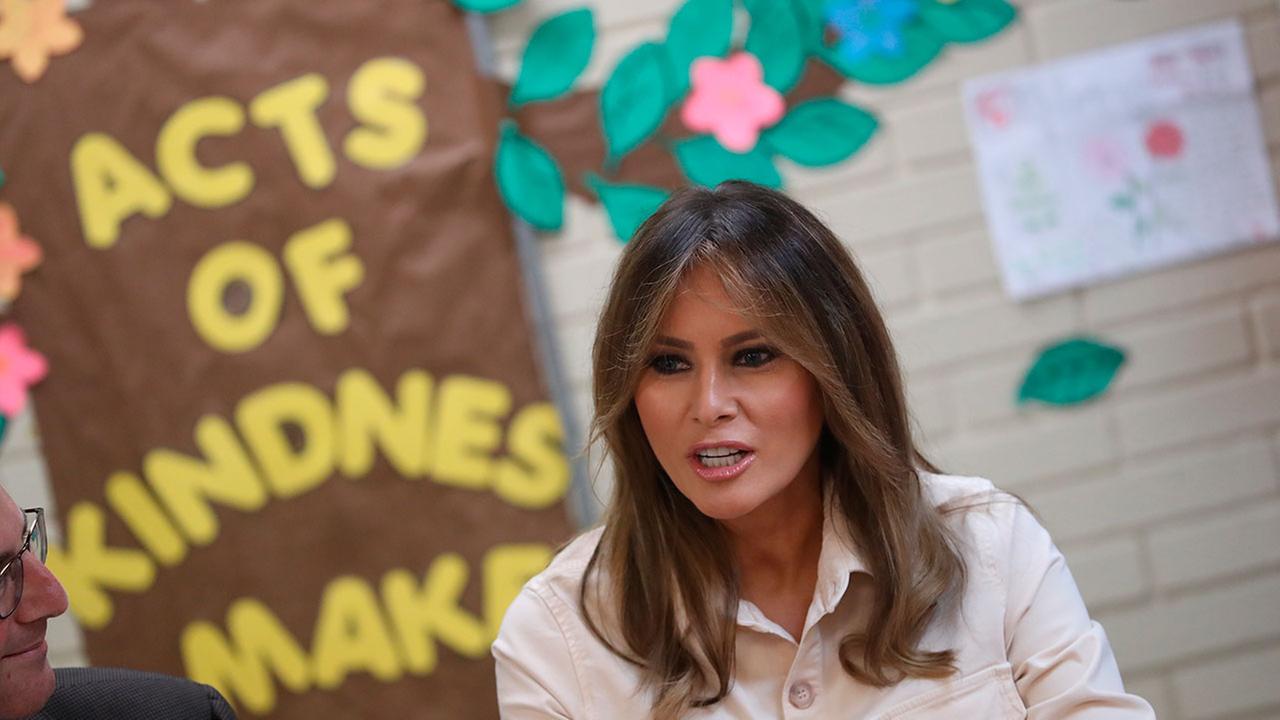 Trump's spokeswoman, Stephanie Grisham, shot back at critics, tweeting of the outfit, "#ItsJustAJacket" and that the first lady's meeting with the migrant children supposedly "impacted [her] greatly."
"If media would spend their time & energy on her actions & efforts to help kids — rather than speculate & focus on her wardrobe – we could get so much accomplished on behalf of children," Grisham wrote.
And here's how the rest of America reacted:
@StephenAtHome I'd like to start a fund raiser to send the children back that the president and his admin kidnapped from their parents. I'm willing to donate $1000.00 towards transportation tickets. Not sure how to start or promote. Will you help me start it.

— Fross Latif (@Fross_Latif) June 22, 2018
"That's great". Listen to #FLOTUS who spent $60m keeping her kid in NYC say of kid separated in facility for 45d. Notice how 1. She reads her scripted question, and 2. official dodged her "maximum" question. #USA #moral crisis rages on. #FamiliesBelongTogther #WhereAreTheChildren

— Graham Sinclair (@esgarchitect) June 22, 2018
that and his complete refusal of taking responsibility for anything he does

— Mike Greggs (@MikeGreggs) June 22, 2018
#melaniasjacket just demonstrates exactly how removed they all are from humanity. Her speech demonstrates why abuse of prescription medications is a bad thing.

— Ally (@Ally50225919) June 22, 2018
COMMENT BELOW
LET US KNOW WHAT YOU THINK
We want to hear your thoughts about this folks! Please leave a comment below: